When most people think about Little League equipment, they tend to think about the obvious gear—balls, bats, gloves, uniforms, etc. Teaching Little Leaguers how to use this equipment properly can feel like a full-time job, but the main goal is to help them have fun and teach teamwork and sportsmanship while doing it. There are plenty of tools to help do this—indoor pitching mounds, portable game mounds, practice mounds, outdoor pitching mounds—but a portable Little League pitching mound is surprisingly effective. Many people don't even know that they exist, though, so let's take a closer look at what they are, how they're made, and how they can help you with your team. 
Portable Pitching Mounds & Youth League Players
Given that tee ball and Little League are the two lowest leagues when it comes to skill, using a portable pitching mound at the Little League level seems like overkill. Anyone who's ever played Little League or sat through a game knows that basic skills can be a huge challenge for most of the players on the field, which is why expressions like "Little League home run" have evolved to describe players who end up circling the bases after a series of comedic miscues.
Little League pitching mounds can help short-circuit many of these mistakes before they happen. Those 40-foot curveball attempts from a 12-year-old will never disappear completely, but a proper pitching mound can help you teach pitching skills so you see far less of them.
Train your youth baseball pitchers on the same great technology as professionals. The Junior Practice Pitching Mound simulates a realistic slope for a real feel to practicing your pitching. The push off and landing areas are reinforced, and the bottom has a non-slip covering, which makes this mound the perfect tool to train your young pitchers on the proper mechanics of the pitching motion.
Now coaches can have another mound at practice and it's affordable enough for parents to purchase for their backyard. Great for working on pitching mechanics indoors or outdoors. Combination of the foam core and the rubber armor allows the pitching mound to be both lightweight and strong.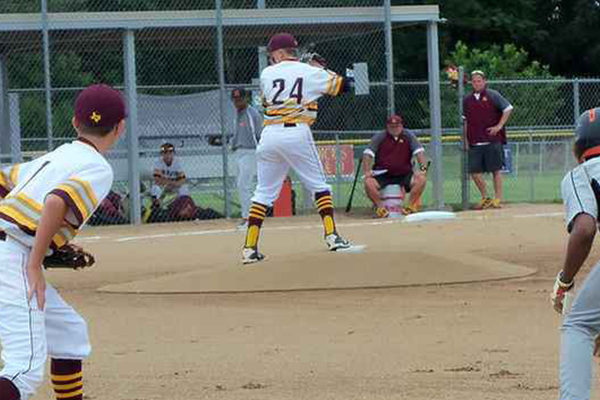 Pitching Mounds and Safety on the Field
That proper form has other positive ramifications, too, so let's look at a few of those. Pitching mounds can improve performance and safety on the field, and they help ensure that your equipment is built to Little League standards.
Proper Mound Height And Distance, From the Top Down
Quality Little League pitching mounds are six inches high for players under eleven, and they go up to eight inches for older players. Having the right mound height means pitchers can be more consistent in their delivery, which accelerates their improvement.
Protect the Players
Portable pitching mounds simplify the catcher's job, and they also protect hitters and umpires. They make it easier for catchers to handle those wayward curveballs, and hitters and umpires don't have to duck and cover as much because they have no idea where the ball's going to go.
Improving Skills With a Portable Pitching Mound
Pitchers can throw more strikes, hitters have more productive at-bats, and fielders aren't standing around listlessly, wondering when practice is going to be over. Getting a pitching mound for Little Leaguers is a win-win that will make you a better coach, and it may even improve play on the field and help with your win/loss record.
Little League Pitching Skills
Basic Little League pitching skills involve mastering fundamental techniques such as grip, stance, balance, delivery, control, and accuracy. A proper pitching mound plays a significant role in the development of these skills. 
Firstly, the mound's height & distance provide young pitchers with a consistent & standardized platform to practice from, promoting muscle memory & repetition. This helps them develop a consistent delivery and stride length, which are crucial for maintaining balance and generating power.
The pitching mound also aids in teaching proper mechanics and body positioning. The raised surface encourages pitchers to maintain a more upright posture, leading to better arm action and release point. It allows them to work on their leg drive, which contributes to generating velocity. By practicing on a mound, pitchers can learn to utilize their lower body effectively and transfer energy from their legs to their throwing motion.
The pitching mound enhances control and accuracy. The specific slope and dimensions of the mound help pitchers develop a sense of depth perception and target placement. It allows them to fine-tune their pitches and learn how to hit specific spots within the strike zone consistently. Pitching from a mound also replicates game conditions more accurately, as it requires pitchers to adjust their mechanics and aim based on the distance and height differential.
The portable nature of these pitching mounds provides coaches with the flexibility to set up consistent practice environments, regardless of the field they are using. This allows pitchers to become comfortable with different pitching environments and adapt to various playing conditions they may encounter during games. A proper pitching mound in Little League baseball acts as a valuable tool for developing essential pitching skills. It helps young pitchers establish proper mechanics, balance, control, and accuracy, setting a foundation for their growth and improvement as they progress in their baseball journey.
Convenience on the Baseball Field
Running a Little League practice is harder than it looks. Kids come into it with all kinds of different talent levels, and varying levels of interest in the game, too. Keeping them all engaged and interested is a major challenge, especially if you're moving from one makeshift field to another. But a portable pitching mound is a game changer that makes those kinds of shifts a breeze.
Pitching Mounds Help With Proper Distance Measurement
Pitching mounds can help you to legitimize those makeshift fields into legitimate ones. They have the right height and landing area, and you can change the angle and orientation for fields with an odd shape. 
Simple Set-Up for Youth League Baseball
Even better, these mounds are easy to set up. They're reasonably light, so if you have an assistant coach or you recruit a parent to help you out, you can be ready to go in a few minutes. No more digging around the pitching rubber to make sure it's usable, or checking the slope to see if your pitchers can use it. All the setup is done for you with portable pitching mounds.
The Benefits of a Top Quality Pitching Mound
In addition to ensuring the proper pitching dimensions, the best portable Little League pitching mounds are tough and durable.
Materials: The best ones are made of reinforced fiberglass and coated with Astroturf, and they're built to withstand the pounding they'll take from a team of enthusiastic Little Leaguers.
Durability and versatility: That durability is another major benefit. Little League pitching mounds can be passed on and used again and again, and different teams can even borrow from one another to facilitate skills development across different leagues, teams, and divisions.  
Authentic slope and pitching rubber: Top-quality portable pitching mounds have pitching rubbers that are built to last, and slope-wise they're built to the exact specifications that are part of Little League play.
Versatility during practice: Your pitchers will even be able to practice their pickoff moves, although we offer no guarantees about where the ball will actually go while they're learning this part of their craft.
Portable Pitching Mounds and the Cost Factor
While many coaches and parents balk at the seemingly high cost of portable pitching mounds, they're actually one of the best equipment investments you can make.
Time savings: They can save you from having to do hours of work on dodgy fields, and you won't have to repair the damage after practice is over.
Safety savings: No coach or parent wants to see a child get hurt from using inferior equipment, and bad fields can do a lot of damage when it comes to the injuries they can cause.
Pitching mounds stop that from happening, which means Little Leaguers can stay on the field longer and have more fun as they do.
Summary
While most people focus on basic equipment like balls, bats, and gloves, portable pitching mounds are often overlooked. These mounds can help improve pitching skills and overall performance while promoting safety on the field and ensuring compliance with Little League standards.
Teaching Proper Pitching Skills
Portable pitching mounds are especially useful in teaching proper pitching techniques to young players. By providing the right height and distance, pitchers can develop consistency in their delivery and minimize mistakes. These mounds also make the catcher's job easier and offer protection to hitters and umpires, reducing the risk of injury.
Furthermore, portable pitching mounds contribute to skill improvement across the board. Pitchers can throw more strikes, hitters can have more productive at-bats, and fielders remain engaged and active during practice sessions. The convenience and ease of setup make these mounds a game-changer for coaches, particularly when dealing with different talent levels and makeshift fields.
Best Portable Pitching Mound Materials
The best portable pitching mounds are made of reinforced fiberglass, coated with Astroturf, and designed to withstand the demands of Little League play. They are durable, versatile, and can be shared among different teams to facilitate skills development. Despite the initial cost, portable pitching mounds prove to be a worthwhile investment by saving time, ensuring player safety, and enhancing the overall enjoyment of the game.
Portable pitching mounds provide numerous benefits in Little League baseball, such as improving pitching skills, enhancing safety, and facilitating convenient and efficient practices. They are a valuable investment that can positively impact players' development and overall experience on the field.
FAQs
1) How far do pitchers throw from home plate when pitching off a mound?
Pitchers in Little League baseball throw from a distance of 46 feet when pitching off a mound. This pitching distance increases as players progress to higher levels of baseball.
2) Do mound height and pitching distance affect youth baseball pitching biomechanics?
Yes, mound height and pitching distance can have an impact on the biomechanics of youth baseball pitchers. Proper mound height allows pitchers to maintain consistent mechanics in their delivery, which is important for their development and for reducing the risk of injury. The pitching distance also affects biomechanics, as it determines the timing and stride length of the pitcher.
3) What is the pitching mound distance for Little League softball?
In Little League softball, the pitching mound distance is typically 35 feet. However, it's important to note that specific regulations and rules may vary depending on the league and division.
4) What are the field dimensions of the Little League diamond?
The field dimensions of the Little League diamond can vary slightly depending on the age group and league. However, in general, the distance between bases is 60 feet, and the distance from the pitching mound to home plate is 46 feet. The outfield dimensions can vary but are typically smaller compared to professional baseball fields.
5) What is the most important part of pitching for Little League players?
One of the most important parts of pitching for Little League players is learning and practicing proper pitching mechanics. This includes aspects such as balance, arm action, stride, and follow-through. Developing sound mechanics at a young age sets a solid foundation for pitchers and helps prevent injuries. Additionally, understanding the importance of control and accuracy in pitching is crucial for success in Little League.
6) What health benefits does a child have who plays Little League baseball?
Children who participate in Little League baseball can enjoy several health benefits. Firstly, it promotes physical fitness and overall athleticism. The sport involves running, throwing, catching, and hitting, which contribute to cardiovascular endurance, muscle strength, coordination, and agility. Regular participation in baseball helps children develop motor skills, improve hand-eye coordination, and enhance their overall physical fitness levels.
Little League baseball encourages an active lifestyle and regular exercise. Engaging in physical activity through practices, games, and training sessions helps children maintain a healthy weight, improve their bone density, and reduce the risk of obesity-related health issues. Additionally, being part of a team sport fosters social interaction, teamwork, and sportsmanship, promoting mental and emotional well-being.
7) What is the most important part of pitching for Little League players?
In Little League baseball, one of the most important aspects of pitching is the development of proper mechanics. Teaching young pitchers the fundamentals of grip, stance, balance, and delivery sets a solid foundation for their future growth. Emphasizing correct pitching mechanics helps prevent injuries and allows pitchers to generate power efficiently.
Another crucial aspect of pitching for Little League players is control and accuracy. While velocity is often desirable, the ability to throw strikes consistently and hit specific spots within the strike zone is essential. Learning to control pitch location, change speeds, and develop command over different pitches allows pitchers to keep opposing batters off balance and be more effective on the mound.
Mental toughness and composure play a significant role in pitching. Little League pitchers need to learn how to handle pressure situations, stay focused, and maintain confidence even when facing adversity. Building mental resilience and developing a strong mindset is vital for success in pitching at any level.
The combination of proper mechanics, control, accuracy, and mental fortitude forms the core elements of pitching for Little League players. Mastering these aspects allows young pitchers to maximize their potential, contribute to their team's success, and continue their growth as they progress in the sport.
Finding the Right Little League Pitching Mound
Now that we've covered the benefits of getting a Little League pitching mound, let's answer a different question—how do you find the right one? The process starts with some shopping, and a little homework as well. We've already provided some clues about what to look for when it comes to quality, so take some time to compare prices and features, make a list, and take the most important step of all.
Call us. We've been making quality baseball equipment for years, and we have a lot of expertise. We'll answer your questions, as a few of our own about your program and needs, then recommend a product.
You'll be happy with what you get, so go to VictoryMounds.com to learn more about our products, then call us at 800 835 9460. If you'd prefer to email, you can contact is at info@victorymounds.com
---