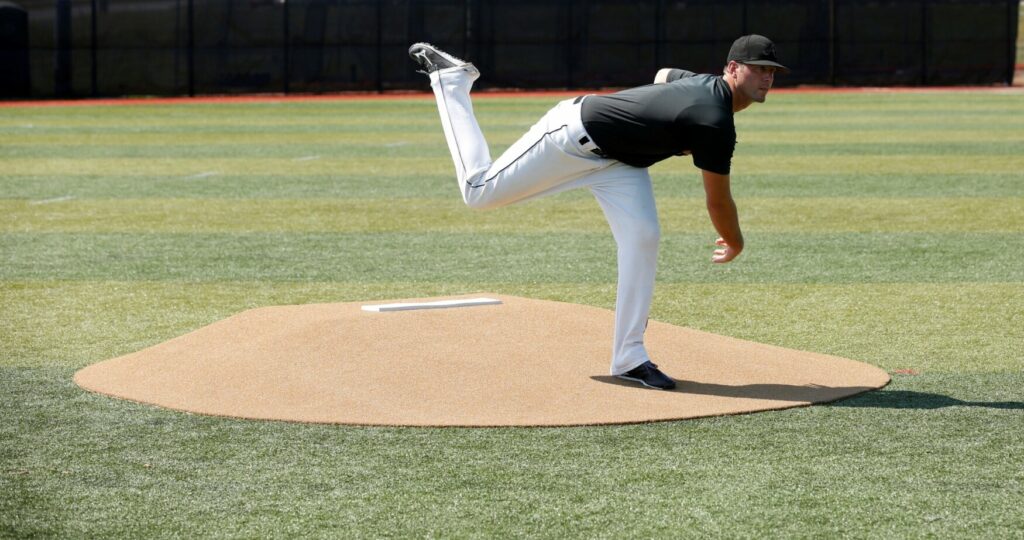 Every coach and team at some point has seen the small portable pitching mounds placed on baseball and softball fields, especially at youth games and tournaments. The problem with these mounds is that the pitcher is often striding from a small mound shell straight onto dirt (which often creates a hole in front of the mound). Not only is the pitcher starting on one surface and ending up on another, the angles and slope of the mound are not remotely game accurate. You even see this in baseball facilities, especially as players grow and develop into high school and college pitchers. We have all seen players who stride off of practice facility mounds. This places pitchers at higher risk of injury and the players have trouble performing and practicing at their best.
We have worked to solve these problems. Our portable pitching mounds are designed for the measurements and tables for their respective age groups and leagues. The pitcher will start and finish on a surface that meets the proper angles. This setup promotes better safety, and overall a better experience for the players.
Our flagship products are our VM Portable Pitching Game Mounds. Coming in heights of 6, 8, and 10 inches, we have mounds for all leagues and ages, from the pee wees to the pros. Each mound is designed using official pitching tables and measurements. Our mounds are manufactured with a fiberglass shell and covered with turf. There are also no lips or edges, helping protect against missteps or bad bounces that may lead to injury. Our mounds are also covered by a 5-year warranty on the shell. All our mounds are easily lifted by a couple of adults. With our mounds being so portable, leagues and complexes can set them up for a game or tournament, and them remove them when not in use. Some may leave them as a permanent fixture on either a synthetic or natural field. Sometimes smart high school and college coaches / instructors will use our game mounds as practice mounds in a facility because they know how important it is to have players practicing at their best and landing in their natural motion. The pitcher in the Tweet/video below is throwing from our VM-10 Portable Game Pitching Mound at a customer's facility. Notice how the pitcher has room on the mound to stride, land and finish his motion naturally without coming off the mound surface.
Here at Victory Mounds, we are committed to providing the highest quality products and services to meet your baseball field needs. We offer everything from portable pitching mounds to field equipment and products, as well as field and facility consulting services.
For more information, please check out our online store, or reach out to members of our team!